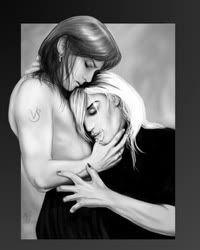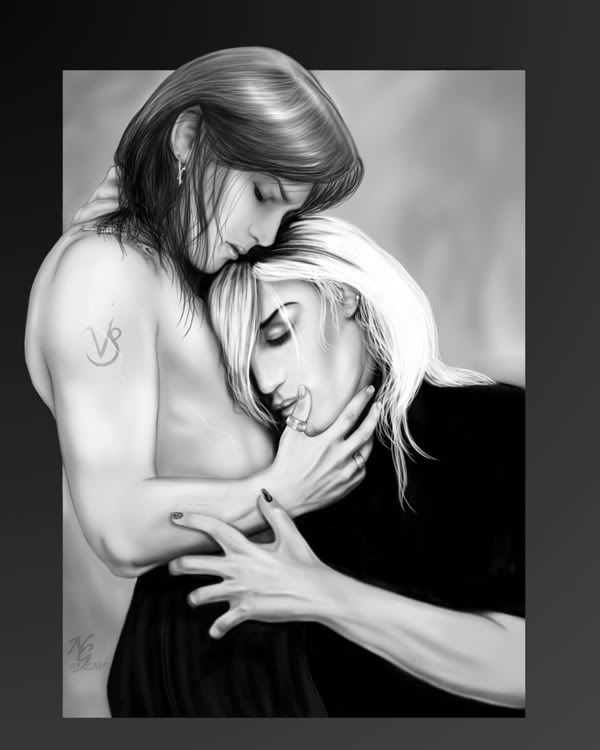 Alex and Zakai
For those who don't know, Zakai is Alex's dad...they have issues, some of which are explained in the excerpt below. This image is a scene that takes place some time after this bit of writing...once Z actually "rescues" Alex and some of the others from Mikkel's "Terrible" clutches. It's a reunion piccy.
Excerpt from Carnal Company : Vendetta
By
Nick Graves and
vyonnlantys
Rating strong R for language(My bits have much swearing)
"It's been bad for a long time." At least that was how Mikkel viewed it, and he was sticking to it.
"For some people yes...but not for everyone. Now everything is pretty much shit in general...doesn't matter if you are in here, outside waiting for us to find a way out of here...or the poor bastards doing this that have to know if there is a hell, they are top on the entry list." Many people found it strange that Alex could speak so candidly about such things...like telling Mikk his soul was going to burn in hell with a casual detachment that said it was simply fact and he didn't have an opinion on it one way or another. It was just how he was. "You ruined my life years ago, so yeah for me...maybe for you too, things have been bad a long time. Doesn't mean we have to drag everyone else down with us."
"It is a shame it has to involve so many people." It was so hard to tell if he was being sincere, especially as he abandoned the soiled rag in favor of smoothing his palm over the round of Alex's rump and the fabric of his torn pants. "I'm not afraid of hell, Alex. I came to the conclusion long ago that if it cost me my soul to get what I want, then so be it." His voice had grown velvety and deep even as he leaned down to breathe against Alex's neck, "I didn't intend to ruin your life...not really. I don't have anything against you; even that little stunt you pulled at Nikare's didn't have me enraged enough to want to tear you apart. You were an unfortunate victim, along with just about everyone else." But apparently breaking Zakai was worth more to him than all those people, because it didn't stop him, didn't even make him pause for a moment.
Alex's cheeks went hot as the man's hand left his back and moved lower, it made him a little self conscious, even if Mikkel couldn't see his face. So, he shifted, folding his arms up under his head and burying his blush in the cradle they made, his voice becoming a little muffled as he spoke into them. "That's sad too...that you still think fucking with me will get to Zakai. With the exception of two people, the five of us you picked off don't matter to him. I'm not one of those two people Mikkel." He actually sounded a little irritated having to repeat this again. What didn't the guy get about it? It really seemed plenty simple enough. "He hardly spoke to me from the time you killed my mother to the time Marcus shot me...and then it was just long enough to make sure I was going to recover and it was back to pretending I didn't exist. He does that...forgets things, people, everything if he doesn't want it in his life...I don't even know my own birthday Mikkel...think about that."